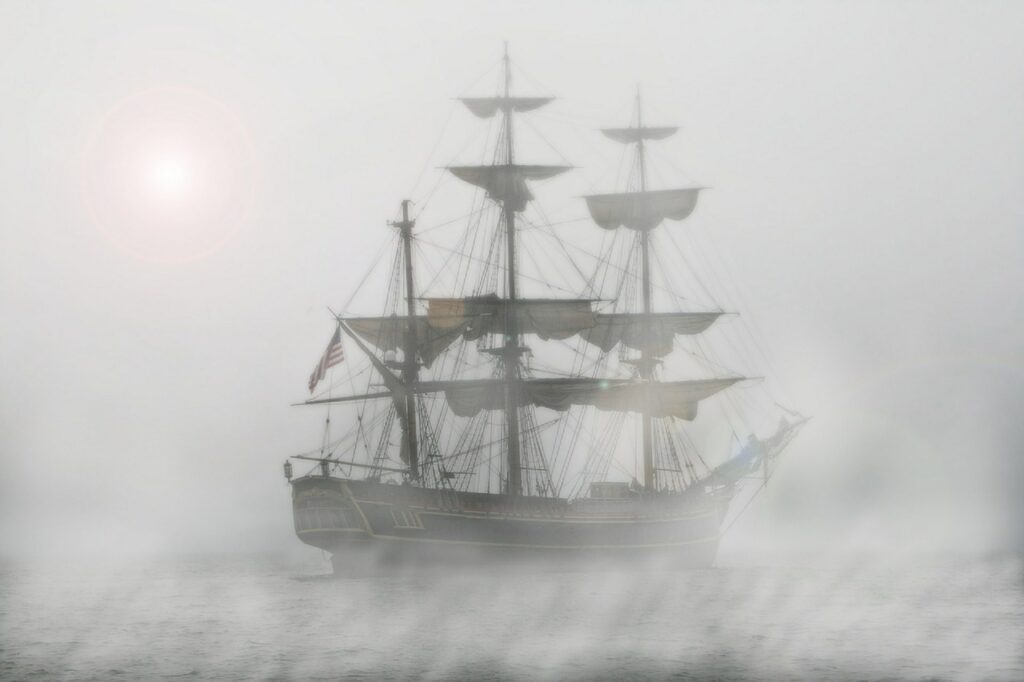 What do we do with this spiritual ship of ours that has a few leaks and holes, where the murky waters of doubt have seeped in and faith has leaked out? How do we restore our confidence?
"Let us hold fast the confession of our hope without wavering, for He who promised is faithful…" (Hebrews 10:23)
It's been a long year. We are desperate for life to return to 'normal' as each of us longs for personal interaction again – to see one another, embrace one another, attend church together in person, and to worship and pray together again. In many ways it feels like we are on a ship at sea where, despite having weathered the storm, we are still adrift in the fog, uncertain of what the future – what 'normal' will look like, unable to see land yet. The storm has been rough. There have been casualties. There has been damage. Some of us may be feeling lost right now as the fog continues to swirl around us. Morale is low. Even though we know the weather is improving – change is coming – we are weary and may temporarily have lost sight of where we are headed.
So what do we do as we drift a little longer, waiting to see land, waiting for the weather to turn and for the fog to roll away? What do we do with this spiritual ship of ours that has a few leaks and holes, where the murky waters of doubt have seeped in and faith has leaked out? How do we restore our confidence?
There may have been times where we have been tempted to jump ship – to take a lifeboat and flee, to save ourselves and to find our own way through this fog. Or we might have been tempted to try to control our circumstances – to work harder and faster trying to fix the leaks in our own strength, only to end up exhausted and burned out. We may have simply given up and lost our hope altogether.
But my friend, we are a Kingdom vessel! We can weather the storm and its aftermath. We can weather the environmental changes, the drifting and the fog. Our holy Skipper knows where we are headed, even if we do not, and we are firmly anchored to Him. So, we keep moving forward, despite not being able to see, despite our instruments not making sense – despite life not making sense.
We hold fast. We hold on because this Kingdom vessel is faithful and has not let us down yet. Our Skipper, whose promises we follow is reliable and so we hold fast without wavering (Hebrews 10:23)
We also trust. We trust that the fog will lift, that we will see land again and that the sun will come out once more. We trust the charts we've been given and the direction in which we are headed. For our chart – the Bible – tells us not to doubt but to have faith, "for he who has doubt in his heart is like the waves of the sea, which are troubled by the driving of the wind." (James 1:6)
We keep moving forward. We press on. We persevere, "forgetting what lies behind and straining forward to what lies ahead… press on toward the goal for the prize of the upward call of God in Christ Jesus." (Philippians 3: 13-14) We can move forward in confidence because the Lord is greater than anything that lies ahead. Psalm 93:4 says that the Lord on high is mightier than many waters and than the waves of the sea. He is our heavenly navigator and will direct the course of our vessel. (Proverbs 3: 5-6)
We also cultivate patience. We wait. Even though we have been waiting for this long year to end and for life to be normal again, it is not up to us to decide when that time should be. We do not know what the Lord's purposes are for others during this period of uncertainty, but be assured that He is most definitely at work and will continue to be at work in the lives of all. Romans 12:12 says to ""Rejoice in hope, be patient in tribulation, be constant in prayer." One of the greatest navigational instruments we have on board our Kingdom vessel is that of prayer! If we cannot do much else during periods of fog and uncertainty, we can still pray!
We can also repair as we wait. There is no better time than now to fix some of the holes in our vessel – perhaps there are cracks in relationships that need to be addressed. Perhaps we have allowed our relationship with God to diminish and our prayer life to weaken. Perhaps our faith has fractures that need to be addressed. If so, reach out to others, reach out in prayer and reach out in faith. Keep bailing out that murky water of doubt and allow the One who provides living water to restore your soul (John 4:10) Allow Him to refill and refresh you, rather than relying on your own strength. Circumstances may have come flooding in, but our Saviour has the power to calm the wind and the waves (Mark 4:37-41) Things may seem impossible for us, but nothing is impossible for him.
Being a Kingdom vessel, we are going to sail through rough seas from time to time. Whilst the world hopes that this current storm may be passing despite fog, uncertainty and ongoing squalls, we must be equipped for the future as we continue to navigate the ocean of life, flying the flag of the Kingdom atop our mast. Hold fast and repair when you need to. Bail out the dirty water and be filled with living water. Pray for those still engulfed in storms around the world and keep moving forward. Be patient and trust, and know that strong wind and waves can drive a person in ways that they never thought possible! Consider the creativity and spiritual growth that has emerged this past year on board your own or our collective Christian vessel! I am certain if you look you will see growth and gifts that you may not have thought possible.
Hold fast to the confession of our hope without wavering, for He who promised is faithful!
Prayer: Father God, our holy skipper and great Anchor of our soul, we thank you for seeing us safely through the storms of this past year. While the way forward may not yet be clear, we know that you are aware of our exact position and have charted a reliable course for us with the promise of safe passage. Keep us faithful on our journey and trusting in you rather than our own strength as we seek to advance your Kingdom and bring you glory, in a broken and storm ravaged world.  In Jesus Name we pray.  Amen.       
www.anneherridge.ca