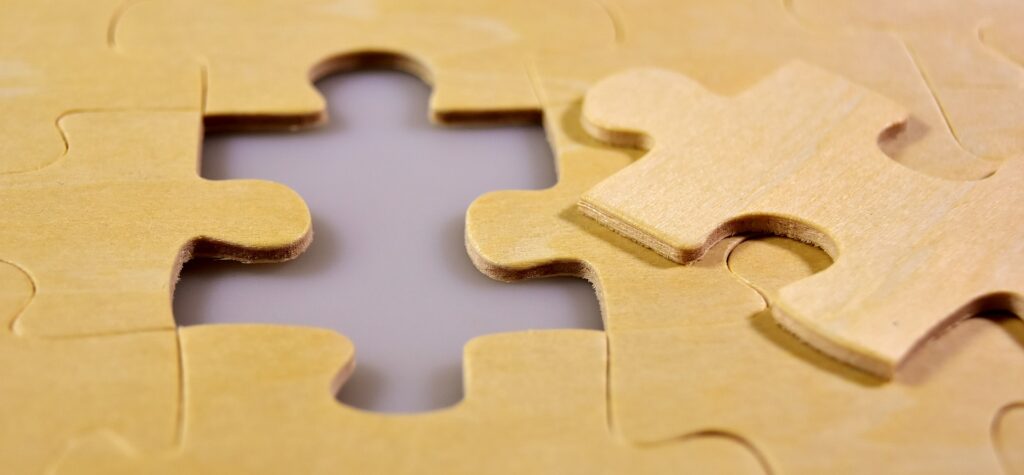 God has shaped each of us to be just the right fit in exactly the right place in our community, in his Kingdom and in the world.
"You are the body of Christ. Each one of you is a part of it." (1 Corinthians 12: 27)
Working in children's ministry gives me the opportunity to look at our Christian walk in all sorts of creative ways as I seek to teach children about God's love and their place in his Kingdom. This past week, I prepared a short reflection for my young audience about how a simple jigsaw puzzle can help us to understand our significance as a child of God, and I realized that the message is appropriate for all, no matter how old we are!
Puzzle pieces come in all sorts of shapes, sizes and colours, a bit like God's people! Each piece is unique and important in itself, but when left alone and not joined to others in fellowship, the picture is incomplete. God has called us to fellowship with one another, to be his body, the church.
"There is one body, but it has many parts. But all its many parts make up one body. It is the same with Christ. We were all baptized by one Holy Spirit. And so we are formed into one body. It didn't matter whether we were Jews or Gentiles, slaves or free people. We were all given the same Spirit to drink. So the body is not made up of just one part. It has many parts…. the parts of the body will not take sides. All of them will take care of one another.If one part suffers, every part suffers with it. If one part is honored, every part shares in its joy." (1 Corinthians 12: 12-14, 25, 26)
This is such a wonderful picture of the church, made up of many different parts where each part is essential and valuable, and shares one another's suffering, honouring one another as we share God's love and message through our community.
Sometimes however, we may feel as if we are not the best fit. We may find that we don't 'click' with others in our community, or we may lack confidence that there is a place for us. As an introverted and relatively shy person, I have often struggled to assert myself and step into my place, or to feel as if I really belong, yet God has shaped each of us to be just the right fit in exactly the right place in our community, in His Kingdom and in the world. We must not listen to the lie that we do not belong. You and I are very important pieces in God's puzzle. He designed us to be the perfect shape and fit with the pieces and people around us.
Nobody else can fill our place in God's big picture. Each of us is unique – a one-of-a-kind limited edition!
But now, O Lord, you are our Father; we are the clay, and you are our potter; we are all the work of your hand. (Isaiah 64:8)
"For we are his workmanship, created in Christ Jesus for good works, which God prepared beforehand, that we should walk in them." (Ephesians 2:10)
With a puzzle, I'm sure you know that if you try to put a piece in the wrong spot, even though it may appear to fit, it actually doesn't and will cause problems with the whole picture. Everything becomes a misfit when pieces end up in the wrong place and we try to force them into places that are not right (where sometimes they can end up damaged!) But God, the great puzzle Master, knows exactly where he designed each one of us to go!
Another thing to remember is that God doesn't leave anyone out! He is all inclusive! He doesn't leave any one of us in the box or on the floor, or down the back of the chair! None of us can be lost, as Jesus promised:
"And this is the will of him who sent me, that I shall lose none of all those he has given me, but raise them up at the last day." (John 6:39)
It is his mission to seek and find the lost (Luke 15: 1-10) He will stop at nothing to search for us, rescue us, restore and reconcile us to our rightful place in his Kingdom and in our community. We were not designed to exist alone – to be a single piece feeling bent, broken or weak. There are times when we have all felt this way in our broken world as we struggle with fatigue, burnout, ill health, anxiety and exhaustion. We can totally identify with those tired little puzzle pieces that get the jagged edges and bend easily, but when those pieces are joined with the other pieces with whom they belong, they become stronger! They hang together and stay together and are much harder to break. In fact, linked with the other pieces, their jagged edges no longer matter because they are upheld by the strength of the adjacent parts, and torn surfaces appear to smooth out as the picture is complete.
As Christians, we are definitely better together as we uphold one another, take our rightful place in God's Kingdom and fulfil our calling to make him known.
Next time you see or do a puzzle, remember that you are an essential piece in God's big picture. You are the perfect shape, size and colour, designed to be unique and chosen for a role that nobody else can fulfil. You cannot be lost and are most certainly not a misfit! You belong to a Kingdom and community which upholds and strengthens you where, along with all God's people, you have power to experience the depth of the love of Christ and are filled with an overflowing measure with which to make him known. What a glorious picture!
Prayer: Father God, thank you for this simple yet powerful image which reminds us that we are an essential piece of your 'big picture'! May we never believe the lie that we don't belong or that we are a misfit in some way, but rather help us to embrace our uniqueness and our place in your body as we seek to love one another and share your love and message with the world. In Jesus Name, Amen.
www.anneherridge.ca