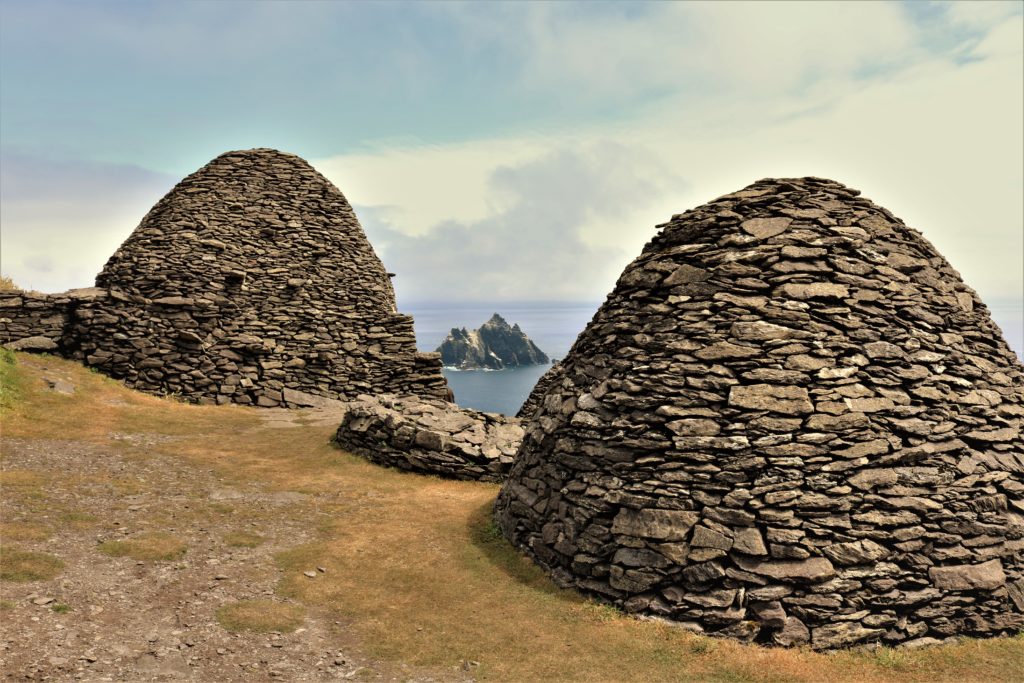 Just as St. Patrick and St. Michael banished serpents into the sea centuries ago, so we too may have some serpents to expel.
"Behold, I have given you authority to tread on serpents and scorpions, and over all the power of the enemy, and nothing shall hurt you." (Luke 10:19)
On the west coast of Ireland, 11 kms off the tip of the Iveragh peninsula, lie the mysterious Skellig islands. The larger island, Skellig Michael, was dedicated to St. Michael the Archangel who is said to have appeared there to help St. Patrick banish evil. Legend claims that this was the final location for the battle between St. Patrick and venomous serpents and devils that plagued Ireland. In answer to his prayers, Michael and a host of angels battled with the demonic forces and eventually banished them into the sea.
This larger island is the site of an isolated medieval monastery, which lies on a ley line which stretches from the western tip of Ireland across Europe, to other sacred sites such as Mont St. Michel in France (where Michael is again rumoured to have fought the forces of evil), all the way to Mount Carmel in Israel.
The Skellig site was inhabited by monks from around the sixth to the twelfth century. The incredible ruins of this sacred site still stand today, and it has become a place of pilgrimage for many. Those who have stood upon the peak of this remote, sacred island cannot ignore the intense spiritual atmosphere that a thousand years of prayer and pilgrimage have cultivated and ponder the legendary events that were said to have taken place there. While we may not have literal serpents to contend with today, Christians do have a very real battle with our enemy Satan, who is anything but a legend.
Satan, a fallen angel, is first introduced in the Bible in the book of Genesis where he is depicted as the serpent who tempts and seduces Eve (see Genesis chapter 3). After he encourages Eve to doubt God's word and eat forbidden fruit with her husband, God curses the serpent and tells it that a male descendant of Eve will come and "crush his head" as the serpent "strikes his heel" (Genesis 3:15) This is God's plan of salvation, mentioned right there in the first few chapters of the Bible where God had already organized our rescue from sin!
The last book of the Bible, Revelation, also associates Satan with a serpent, describing his end.
"And he laid hold of the dragon, the serpent of old, who is the devil and Satan, and bound him for a thousand years.." (Revelation 20:2)
In general, serpents have a bad press throughout the Bible, often representing danger, fear, deceit, doubt and cunning. (see Numbers 21:6-9, Mark 16:18, Acts 28:3-6, Proverbs 23: 31-32, Matthew 23:33)
I wonder which 'serpents' grab at your heel or torment you? Which 'serpents' whisper lies to you and cause you to doubt and fear? Or is there some sinful behaviour or attitude that has slid silently into your life and wrapped itself around your heart like venom? Serpents are subtle, deceptive and often camouflaged. They are masters of disguise, breaking up the outline of their body to confuse prey. They flourish more than other creatures in the wild because of their subtly and because they are often silent, often hidden, taking their prey by surprise. They blend into the environment and quietly multiply, unseen and unheard, just as sin, doubt and fear can multiply unchecked, deep in our hearts.
As St. Patrick and St. Michael banished serpents into the sea centuries ago, so we too may have some serpents to expel. It may feel as if our own serpents are wrapped too tightly around our heart, and we may be afraid to tamper with them for fear of suffocation. But Jesus made us a promise.
"Behold, I have given you authority to tread on serpents and scorpions, and over all the power of the enemy, and nothing shall hurt you." (Luke 10:19)
What a promise! He who will crush the head of the serpent has given us the authority to do the same! We need to take this authority and use it to expel fear and crush the lies and doubts that threaten our footsteps. Although Satan appears to have great power in the world since it was handed to him in the garden of Eden, his power is no match for the power and authority of Jesus, or the Christian believer who is filled with the Holy Spirit.
Jesus demonstrated his authority through healing sick and diseased bodies, raising the dead, calming the weather, feeding thousands, walking on water, and overruling the laws of science and nature. HIs disciples did the same. Jesus brought peace to troubled hearts and erased doubt and fear, declaring that all authority in heaven and on the earth had been given to him (Matthew 28:17-18)
His authority is available for us to use, and we should not be afraid to do so. Among other things, we have been wired for boldness. The Bible is full of stories of ordinary men and women who left their comfort zone and stepped out in faith and boldness to take on serpents, lions, giants and warriors. Consider the words of Psalm 91, which is a promise of God's protection,
"You will tread upon the lion and the cobra; you will trample the great lion and the serpent." (Psalm 91: 13)
Notice again the reference to trampling the serpent!
Fellow serpent treader, the One who is in us, is greater than the enemy (1 John 4:4) In fact, Jesus said that we would do even greater things than he did,
"Very truly I tell you, whoever believes in me will do the works I have been doing, and they will do even greater things than these, because I am going to the Father. And I will do whatever you ask in my name, so that the Father may be glorified in the Son. You may ask me for anything in my name, and I will do it." (John 14:12-14)
The enemy knows this truth about us, but we often don't! Satan delights in keeping us under the impression that we are weak, helpless and without hope, trapped in our fears or sickness, at the mercy of the world we live in. This is not true. See if you can identify some of the lies the serpent whispers to your heart. Here are some examples:
"You're not going to make it."
"Fear will always be with you"
"You're a failure"
"God's not going to hear your prayer"
"You are not easy to love"
"You are not important"
"You are not wanted"
"You are weak"
"You can't really trust God"
Has your confidence been robbed? These thoughts are lies that have wrapped around your heart. Once aware of them, trample them with God's truth! Sometimes it is helpful to write out the lies and negative beliefs we have and then write God's scriptural truth underneath. Then look at it daily like a prescription!
It has been said that the power of Satan rests with his ability to deceive the world into thinking his influence is greater than God's, and that we are at his mercy. This perhaps is the lie he also tells himself, as the Bible tells us that the root of his rebellion was his own belief that he could raise his throne above God's and take the Almighty's position in heaven (see Isaiah 14:12-15) This is not true. The serpent's time is limited. The final battle is approaching and we have been given the authority to tread upon the serpent and over all his power. Be bold and take that authority in Jesus' Name! Let's ask God to help us!
Prayer: Lord, we pray that you would expose any belief or attitude that may have slipped into our hearts unnoticed, that may be causing doubt, fear or sin, and we ask for your strength and help to expel it in Jesus Name. Thank you for giving us authority to trample the serpent. Help this to become a reality for us. Teach us to assert your authority and to move forward with confidence, trusting you and advancing your Kingdom both in our own lives and in the lives of others through the power of your Holy Spirit. We pray that a spirit of boldness would arise in your followers today to take back the ground the enemy has stolen both in our personal lives and in the wider world. In Jesus Name, we pray, Amen.
You may enjoy this poem written after a visit to the Skellig islands.
The poem mentioned above, called Window over the World, is one of many poems and prayers that I will be publishing  to celebrate the Skellig Islands later this year (2020). The book will be available to purchase through the website, www.anneherridge.ca  in the spring of 2021.
www.anneherridge.ca