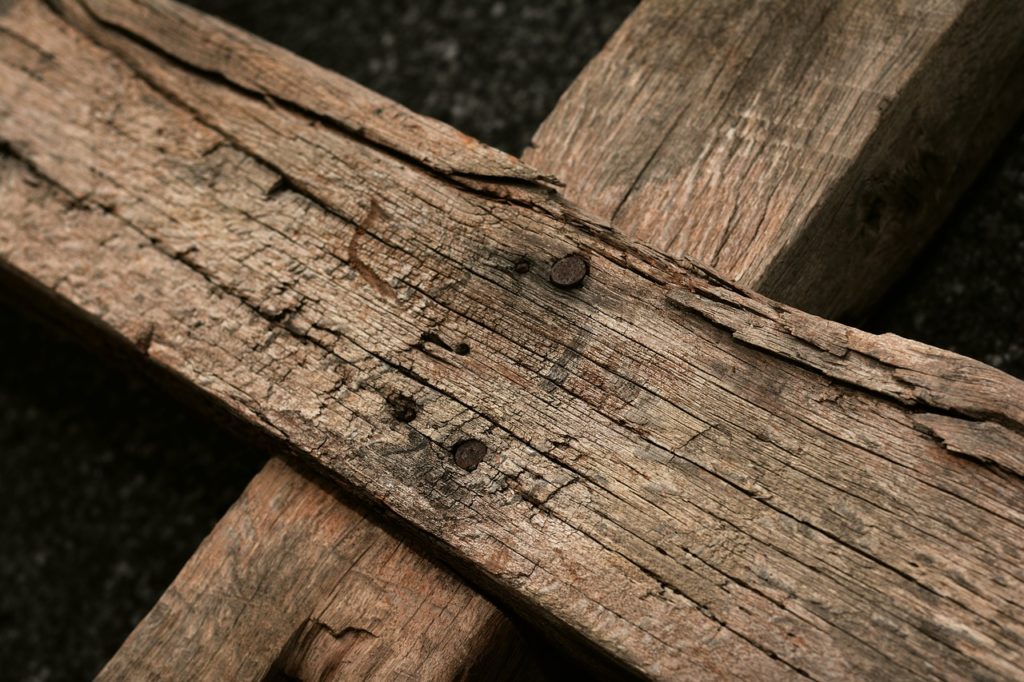 Your sins, no matter what they may be, have been forgiven, once and for all. Your debt has been paid. This is the true message of Easter, and this message is for you.
"When he had received the drink, Jesus said, "It is finished." With that, he bowed his head and gave up his spirit." (John 19:30)
April is tax season in Canada. From February to the end of April, Canadians spend time filing their tax returns. Some get rebates from all the tax they have paid over the previous year, and others owe the government and must pay their bill by April 30th to avoid penalties. This year, Easter also falls in April. The two seasons have something in common in that they both have to do with the payment of debts.
Being self employed, every year I have a tax bill. I know what I owe once my return is complete and even though I often file ahead of time, I usually go straight to the bank and pay my bill. For me, until the bank has stamped my payslip to say that my bill is paid in full, I cannot relax! Only when it is paid am I free of concern because I don't like to owe money to anyone. I don't like to have debt of any kind hanging over me.
Just over two thousand years ago, Jesus paid a debt for you and me so that we would not have to face the penalty. The debt was called sin and the penalty for that sin was death ("For the wages of sin is death, but the gift of God is eternal life in Christ Jesus our Lord." Romans 6:23) Through his death on the cross that first Good Friday, he paid the price for every man and woman on Earth, for the sins of the past, present and the future, cancelling our debt once and for all.
The following is an excerpt from the moments that transformed human history forever.
"So the soldiers took charge of Jesus. Carrying his own cross, he went out to the place of the Skull (which in Aramaic is called Golgotha). There they crucified him, and with him two others—one on each side and Jesus in the middle.
Pilate had a notice prepared and fastened to the cross. It read: JESUS OF NAZARETH, THE KING OF THE JEWS. Many of the Jews read this sign, for the place where Jesus was crucified was near the city, and the sign was written in Aramaic, Latin and Greek. The chief priests of the Jews protested to Pilate, "Do not write 'The King of the Jews,' but that this man claimed to be king of the Jews."
Pilate answered, "What I have written, I have written."
When the soldiers crucified Jesus, they took his clothes, dividing them into four shares, one for each of them, with the undergarment remaining. This garment was seamless, woven in one piece from top to bottom.
"Let's not tear it," they said to one another. "Let's decide by lot who will get it."
This happened that the scripture might be fulfilled that said,
"They divided my clothes among them
and cast lots for my garment."
So this is what the soldiers did.
Near the cross of Jesus stood his mother, his mother's sister, Mary the wife of Clopas, and Mary Magdalene. When Jesus saw his mother there, and the disciple whom he loved standing nearby, he said to her, "Woman here is your son," and to the disciple, "Here is your mother." From that time on, this disciple took her into his home.
Later, knowing that everything had now been finished, and so that Scripture would be fulfilled, Jesus said, "I am thirsty." A jar of wine vinegar was there, so they soaked a sponge in it, put the sponge on a stalk of the hyssop plant, and lifted it to Jesus' lips. When he had received the drink, Jesus said, "It is finished." With that, he bowed his head and gave up his spirit."
(John 19:16 -30)
It is finished.
His final words.
The original word he used here in the Greek was "Tetelestai" (Τετέλεσται), meaning, it has been "finished" or, "paid in full".
During the first century, the word tetelestai was often stamped on paid bills and debt certificates. Early records dating back to the time of Plato indicate the word was used to refer to payment of debt and taxes. Scholars believe that it was also used in first century prisons. When a person was imprisoned, the list of crimes committed, a 'record of wrongs' as it were, was hung on the cell door. Once a man had served his punishment, "tetelestai" was written across the list of crimes, to cancel them and show that the punishment had been paid. The prisoner was then free to go with the slate to show that his misconduct had been paid for in full and his sentence terminated.
The tense of the word tetelestai describes an action that has been fulfilled, but with outcomes into the future, implying that it is ongoing. Therefore, Jesus' cancellation of the debt of sin, was accomplished there on the cross, but also continues into the future. His sacrifice was once and for all, for all the sins of the past, the present and the years yet to come! He took care of your sin and mine, before we were even born. This was the plan from the beginning, as mentioned in Genesis 3:15, where God promised a redeemer following Adam and Eve's fall into sin. The debt owing for sin was paid and cancelled for all time!
What 'record of wrongs' are you carrying in this life? Are you still weighed down by the burden of your mistakes and wrongdoing, or have you left them at the foot of the cross? If your failures continue to trouble you, it can be helpful to write a list of them and then write the words of John 19:30 "Finished and cancelled forever" across the centre of the list in bold lettering! Your sins, no matter what they may be, have been forgiven, once and for all. Your debt has been paid. This is the true message of Easter, and this message is for you.
It is my prayer that you will experience the true grace and meaning of "Tetelestai" today.
PRAYER: Father God, thank you that even before I was born, you had a plan for my salvation. Thank you that you loved me so much that you sent your Son to die in my place and cancel the debt of sin to give me a clean slate. Jesus, today I accept your sacrifice and choose to live for your Kingdom! Amen.
You may also enjoy the poem, Forgiven, on the Poetry page, and the short script, Paid in Full, on the Perform page, where a man discovers what it means to have his debts paid in full by his heavenly Father!
www.anneherridge.ca