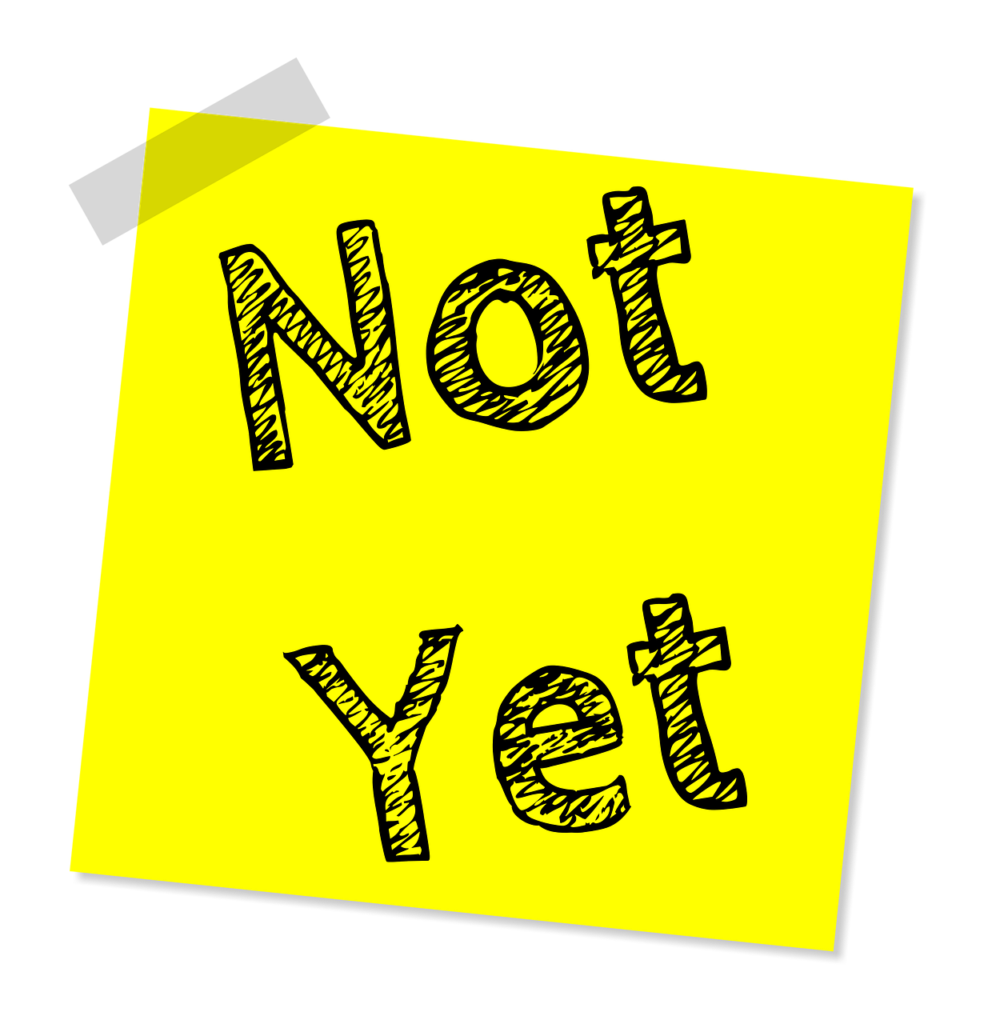 There is work God has yet to do in your life. There are gifts God has yet to give you. There is growth and healing you have yet to experience. 
"And you have put him in complete charge of everything there is. Nothing is left out. We have not yet seen all of this take place…" (Hebrews 2:8 Living Bible)
As the new year begins to unfold, do you find yourself pondering life and looking back at what you may or may not have accomplished so far? Sometimes it can be discouraging to realize that we have reached a certain time in our life and have not achieved some of the goals or dreams we had hoped would come to pass, which can be discouraging.
The truth however, is that God has a plan and a time frame for us that is right on schedule. His timing is always spot on. "There is a time for everything, and a season for every activity under the heavens." (Ecclesiastes 3:1)
He is aware of our desires and dreams, because he sowed them into our hearts in the first place, but it is not necessarily for us to know or decide when the time is right for those desires to fall into place… "He said to them: "It is not for you to know the times or dates the Father has set by his own authority." (Acts 1:7 )
His timing may not be ours and his plan may not look like ours, but we can be assured that his strategy is the best and his scheduling is perfect. How many times have you been in the right place at the right time, or wanted something and had to wait, only to realize that the waiting produced a better outcome? A young man I know was recently seeking work. He spent months working on his resume, attending interviews, trying for jobs and watching the "perfect" job come and go, as time after time he was turned down for reasons he could not understand. After a while he abandoned his strategies and began to abandon his hope of finding work at all, and that is when God stepped in! Out of nowhere the Lord provided what really was the 'perfect' job for him, with a generous and godly employer, which far exceeded the average entry level job for a young man his age!
I hope you can think of similar examples in your life where God has stepped in with something much better than your plan. It is your experience that speaks the loudest when you are tempted to doubt. What does your experience tell you about God's faithfulness and ability to deliver far more than you dreamed or imagined?
There is a small but highly significant word that we would do well to insert into our sentences when tempted to give in to discouragement. That word is "yet".
The Bible contains many verses and passages that mention this life changing little word! Jesus used it when his mother asked him to help when the wine ran out at a wedding.
"Woman, why are you saying this to me? My time has not yet come." (John 2:4)
Jesus was aware that there was an appropriate time for the signs and wonders accompanying his ministry to begin, in accordance with the Father's plan. Knowing who he was and watching the broken world around him, he must have been longing to reach out and begin his ministry, desperate to touch, to heal, to restore the brokenness he witnessed and yet, he knew it had to happen in God's timing and according to his will. Perhaps your time has yet to come also? If you are waiting or preparing for something such as a ministry, a job opportunity, the right relationship, healing, recognition in some way for your work, faithfulness or integrity, maybe the time has not yet come. This does not mean it will not come, but just that you must wait a little longer.
In John 20:9 we learn that the disciples who ran to Jesus' tomb after hearing that Jesus was not there, "did not yet understand the scripture that Jesus must rise from the dead."
The disciples who had spent three years living and learning from Jesus did not yet understand everything. Sometimes you and I may not understand either. Be patient with yourself if you are struggling to understand. You may not comprehend something right now, but like the disciples, you will when the time is right.
Hebrews 2:8 tells us that at present we do not yet see all things under God's control but reassures us that all things are under his care. In fact, "Nothing is left out." This means that no situation you are facing has been left outside of his control! Though you have yet to see it, or yet to experience your dream or your struggle being fulfilled or resolved, you will see resolution because he is in complete charge of everything there is. Everything! He has it all in hand. There is work God has yet to do in your life. There are gifts God has yet to give you. There is growth and healing you have yet to experience. There are things you have yet to learn. Be confident because as Hebrews 11:1 tells us, "faith is confidence in what we hope for and assurance about what we do not see." (yet!)
You may not have that job yet. You may not be healed yet. You may not have overcome your struggles yet. You may not feel fulfilled yet. You may not be the person you want to be yet. But you will, because God is in control.
Are you struggling spiritually? Place your hope in God as the psalmist recommends and you "will yet praise him" (Psalm 42:11) The psalmist knew all about feeling downcast and yet, though many of the psalms start with him expressing his doubts and discouragement, they always end on a note of hope as he remembers truth and his experience of God in his life. Like the psalmist, why not add the word "yet" to your words and your self talk?
Here are some thoughts that many of us wrestle with, with some Scriptural truth to challenge those thoughts, along with a "yet" I added to the sentence to encourage you.
"I cannot praise him…yet" Psalm 42:11, "Why, my soul, are you downcast? Why so disturbed within me? Put your hope in God, for I will yet praise him, my Savior and my God."
"I have not got the job…yet" Philippians 4: 19, "And my God will supply every need of yours according to his riches in glory in Christ Jesus."
"I am not healed…yet" Jeremiah 30: 17, "I will give you back your health and heal your wounds, says the LORD."
John 9 :1-3,""Rabbi, who sinned, this man or his parents, that he was born blind?"
"Neither this man nor his parents sinned," said Jesus, "but this happened so that the works of God might be displayed in him." (when the time was right!)
"I have not overcome this… yet" 1 Corinthians 15:57, "But thanks be to God! He gives us the victory through our Lord Jesus Christ."
"My dream is not realized…yet" Psalm 37:4, "Take delight in the LORD, and he will give you the desires of your heart."
"I am not a parent… yet" Acts 7:5, "God did promise, however, that eventually the whole land would belong to Abraham and his descendants—even though he had no children yet."
But 25 years later…
Genesis 21: 2-3,5, "Sarah became pregnant and bore a son to Abraham in his old age, at the very time God had promised him. Abraham gave the name Isaac[ to the son Sarah bore him…. Abraham was a hundred years old when his son Isaac was born to him."
"My time has not come… yet" 2 Peter 3:8-9, "But do not forget this one thing, dear friends: With the Lord a day is like a thousand years, and a thousand years are like a day. The Lord is not slow in keeping his promise, as some understand slowness. Instead he is patient with you…"
"I am not the person I want to be…yet" Philippians 1:6, "…being confident of this, that he who began a good work in you will carry it on to completion until the day of Christ Jesus."
"I am not strong enough.. yet" Matthew 12:20, "a bruised reed he will not break, and a smoldering wick he will not quench, until he brings justice to victory;"
Isaiah 41:10, "So do not fear, for I am with you; do not be dismayed, for I am your God. I will strengthen you and help you; I will uphold you with my righteous right hand."
Do you need to insert a "yet" into your thinking this new year? Do so with confidence because your Father in heaven has all things under control and has begun a good and beautiful work in you which he has promised to complete! Remember his promise in 1 Corinthians 2:9: "That is what the Scriptures mean when they say, "No eye has seen, no ear has heard, and no mind has imagined what God has prepared for those who love him."
That's you my friend! You cannot see, hear or imagine what God has in store for you! Rejoice and trust in the One who has complete control over everything there is!
Prayer: Father God, thank you that you are in control of everything. That thought alone gives me peace. Forgive me for those times when I lack understanding or patience and help me to trust and wait for your timing. When my thoughts are discouraging, help me to remember that I will yet praise you because your plan for my life is right and perfect. Help me to live in a way that draws others to you and makes you known in this world where so many are desperate and driven, and to invite them to consider the "yet" that you have planned for them too. In Jesus Name, Amen.
www.anneherridge.ca