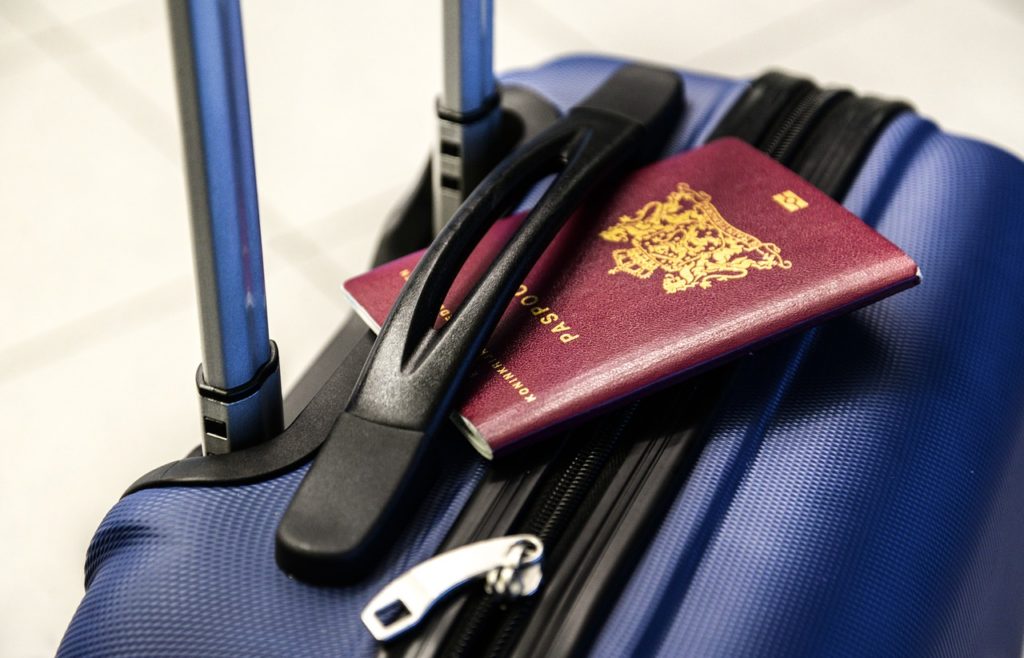 We follow One who has set an example of how to be a dual citizen, living a holy life in the midst of a chaotic world.
"Dear friends, I warn you as "temporary residents and foreigners" to keep away from worldly desires that wage war against your very souls. (1 Peter 2: 11)
I looked down through the cabin window at the vast expanse of land far below. Somewhere down there in our newly adopted country was a community that would eventually become 'home', employment opportunities awaiting us and people we had yet to meet. Strangers whom God would call into our lives and into whose lives we were called to serve, love and encourage. Somewhere, 31,000 feet below were future friends, some of whom would even become 'family' to us.
We knew that God had invited us to leave the comfort and stability of life in our homeland and to become strangers ourselves in a foreign land. We stepped off the 'plane at Vancouver's International airport, with two small children, two strollers and five suitcases. We had no friends or family to greet us as we walked out through the exit hall, no jobs lined up, no home to call our own. It struck me that we did not know a single soul in this vast country. We had left behind stable jobs, a home we owned, and our families and friends. Now we had to trust God for our every need for the life we believed he was calling us to.
Fifteen years on, we have been successful from the world's point of view. We are employed. We belong to a great church. We are privileged to own a home and our children have graduated from school and are pursuing further education. From all outward appearances life looks good! Yet, all four of us still do not feel as if we fit in. We are still strangers in this foreign land. Something inside us is not at home.
Many immigrants will tell you a similar story. They belong and yet they don't. They fit and yet they don't. I have spoken to many immigrants who describe living between two worlds, perhaps never quite belonging to one or the other once they have left "home".
There is a picture circulating on social media of a mandarin segment tucked perfectly into a garlic clove. It is the perfect shape and fit, with the caption, "Just because you fit in, doesn't mean you belong." A good summary of how our family sometimes feels! We fit well, but do not really belong. History surrounds us but it is not ours. We are still learning some of the traditions and ways of our adopted community and culture. The same language surrounds us, but it is not always familiar. Sometimes we are not understood (especially in a Drive-thru!) Our family name is unfamiliar here. There are no previous generations who lived here before us to serve as an anchor or point of reference.
The Polish philosopher and historian, Leszek Kolakowski, once said of migrants, "We live in an age of refugees, of migrants, vagrants, nomads, roaming about the continent and warming their souls with the memory of their – spiritual or ethnic, divine or geographical, real or imaginary – homes."
The memory of home, whether geographical, spiritual or ethnic is important! Home tells us who we are, and where we came from. Home is an anchor.
As Christians, we are all migrants and nomads here on earth. We are not supposed to 'belong'. We are not supposed to get too comfortable! We are to warm our souls with the knowledge of our spiritual home and the Father to whom we belong, for he is our true anchor and the One who gives our lives purpose and direction. The Bible says in 1 Peter 2:11 that we are "temporary residents" and "exiles" in the world.
I am grateful for my ongoing unsettledness and the feeling of not belonging here, because it serves as a reminder that I shouldn't get too comfortable in the world. It is a very distracting place! We become consumed with doing life, surviving life, or getting ahead in life! We often lose sight of our true identity in Christ and are easily diverted and drawn into the world's way of thinking and living. Instead of remembering that we are just travelling through with the purpose of loving others and making God known, we get so drawn in to the ways of the world and so comfortable that we unpack and stay! Temporary residents don't take much with them! They travel light and don't get attached to worldly possessions and goods.
Long before people had the level of possessions, gadgets or money we have today, the apostle John said (1 John 2: 15-16) "Do not love the world or the things in the world. If anyone loves the world, the love of the Father is not in him. For all that is in the world—the desires of the flesh and the desires of the eyes and pride in possessions—is not from the Father but is from the world."
Temporary residents don't haul a ton of stuff around with them and amass more on the way!
Temporary residents also don't give up their citizenship. Even permanent residents don't! I am a dual citizen of England and Canada. I am also a dual citizen of earth and heaven! But it can be hard to hang on to your nationality and original identity in a different country. While we have embraced our adopted culture, we are aware that we have begun to lose our British-ness! We have forgotten certain words we used to use and replaced them with the Canadian equivalent. Our children no longer have their British accents, now sounding fully Canadian and pronouncing some words differently to their parents! Some of our British traditions and habits are becoming lost because we are no longer surrounded by them and reminded of them.
As Christians we must guard against losing the language and habits of heaven.
We must also not lose our view of heaven! Ecclesiastes 3:11 says that God has "planted eternity in the hearts of men" but that many "cannot see" the whole scope of his work.
So often, we forget eternity and fail to see the scope of God's work here on earth. Our gaze slips. We spend too long looking down at our problems, or our phone, and not enough time looking up at God. Billy Graham, in his book, "Nearing Home: Life, Faith and Finishing Well" (2011) said, "I often wonder if God, in his sovereignty, allows the eyesight of the aged to cast a dim view of the here and now so that we may focus our spiritual eyes on the ever after.."
Hebrews 13:14 says that "Here we have no continuing city, but we seek one to come." Imagine if you knew that your city, your home, your possessions (and for the sake of my teenagers reading this, your phones) were not going to exist much longer! Would it change how you view them? Can we view our possessions as temporary? A pastor once told the story of a man who put stickers labelled "temporary" on all his possessions – his house, his truck, his TV, phone, laptop, to remind him how unimportant they really were. He went on to ask what we would spend our last hours doing if we knew for certain that the world was to cease to exist at 4pm that afternoon! Would we spend our time texting or taking end-of-the-world-selfies? Would we watch a favourite movie one last time? Would we polish the car? Or would we grab hold of our loved ones and go out and share the message of God's love and salvation with as many people as we could find?
The world teaches us that "things" are important. As well as getting attached to possessions, we can become attached to other things such as certain habits, food, alcohol, money, unhealthy relationships or anything that draws our time, energy and attention away from our eternal calling, which is why Romans 12:2 urges, "Do not be conformed to this world, but be transformed by the renewal of your mind, that by testing you may discern what is the will of God, what is good and acceptable and perfect."
We follow One who has set an example of how to be a dual citizen, living a holy life in the midst of a chaotic world. His name is Jesus! He has left us not only a book of instruction but His Holy Spirit to be our guide and counsellor. He has instructed us to renew our minds – to soak our minds in his Word so that our thoughts and actions develop from pure motives and are governed by his truth. Here, we may be between worlds and not quite "home", but we belong to an eternal household with a Father who is rooting for us! There our names are known, the language is one of love and we are "fellow citizens with the saints and members of the household of God…" (Ephesians 2: 19-20) Drawing from that source of love and identity we can move out into the world that we are temporarily passing through, embracing others and loving them as he has loved us.
Prayer: Father, thank you for showing us what it looks like to have dual citizenship! May we never lose sight of the truth that we are indeed citizens of heaven as well as the earth. Help us to travel lightly on our earthly journey and not to become drawn into lifestyles or habits that pull our time and energy away from you and our eternal calling. Help us to keep our gaze on you and warm our souls with thoughts of your heavenly household so that we may in turn lead others home to you, to find the love and belonging that you designed them to receive. In Jesus Name we pray, Amen.
www.anneherridge.ca