The following is one of a series of short devotionals based on my book, "God's Love For You."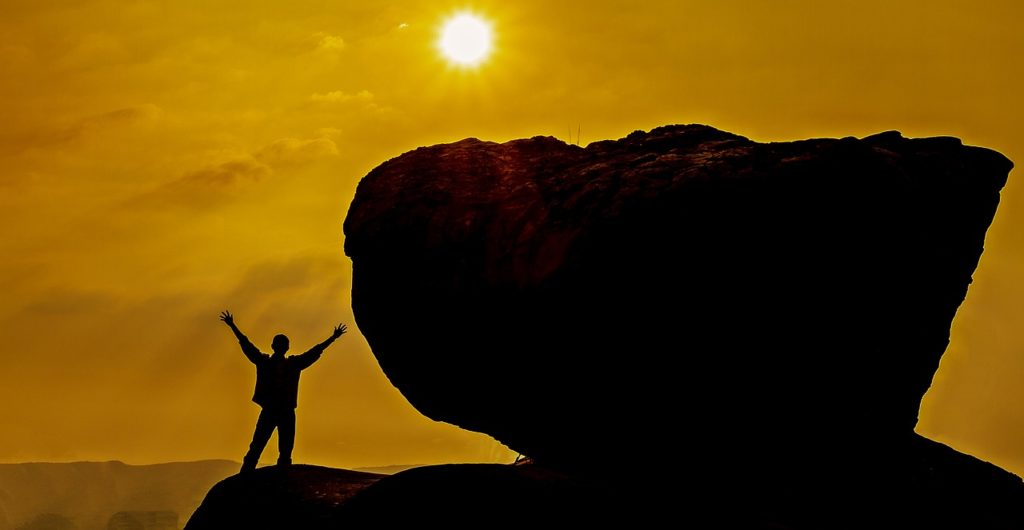 Let us not allow safety to become our god, but rather let us allow God, our rock and fortress, to become our safety!
"The Lord is my rock, my fortress, and my savior.." (Psalm 18:2)
Most people would agree that the world feels very unsafe as we find ourselves starting to emerge from a pandemic for which we currently have no vaccine. Aside from pandemics, there are other disasters around the globe that leave many people feeling unsafe at the best of times. Some people experience anxiety daily and exert an enormous amount of emotional energy searching for safety in an unpredictable world. As therapists will confirm, many of the troublesome emotional and behavioural patterns that people can develop, are simply strategies they acquire to keep themselves feeling safe from either real or perceived threats.
What do you need to feel safe, secure and protected?
A baby bird feels protected under a mother's wing. A child feels safe in the arms of a loving parent. A soldier feels secure under the authority of a good commanding officer, and God wants us to feel safe in his care. He has been described as being like a rock or fortress:
"The LORD is my rock, my fortress and my deliverer;
my God is my rock, in whom I take refuge,
my shield and the horn of my salvation, my stronghold." (Psalm 18:1-2)
He is also like a shadow where we may find rest:
"Whoever dwells in the shelter of the Most High
will rest in the shadow of the Almighty" (Psalm 91:1).
He has promised to shelter us like a bird shelters her young,
"He will cover you with his feathers,
and under his wings you will find refuge.." (Psalm 91:4)
He has promised never to let our foot slip. He watches over us day and night:
"He will not let your foot slip—
he who watches over you will not slumber.." (Psalm 121:3)
In order to experience this safety and protection, we must entrust our lives to his authority. He has given us a choice, just as a child can choose whether to follow parental guidance. If a child chooses not to listen to a parent and touches a hot stove, he is jeopardizing his safety. If a serviceman chooses to disregard his orders and fight alone in battle, he is no longer under the protection of his platoon. If a driver chooses to teach himself to drive without the wisdom of an instructor or the highway code, he may end up in an accident.
In ancient times, a king's subjects could travel with a letter from the King to ensure safe passage through certain territories. Today, our King is longing for us to travel through life with his protection, wanting us to know that he will rescue and protect those who trust in his name (Psalm 91:14) When I think of the description of God as our rock, I picture boulders, which are massive rock fragments that are usually unmoveable. Billions of years old, and having existed since the beginning of time, they are strong, impenetrable, and can be used as shelter, shade or for defence. Just a small comparison to the greatness of our God. Let us not allow safety to become our god, but rather let us allow God, our rock and fortress, to become our safety!
Father, thank you for being my rock and my fortress, my God in whom I trust. There are days when I find it hard to trust, but in faith, I choose to put myself under your authority and protection, and to believe. As your word says, my only hope is in you (Psalm 39:7) I choose your eternal shelter, protection, and strength. In Jesus Name, Amen.
www.anneherridge.ca