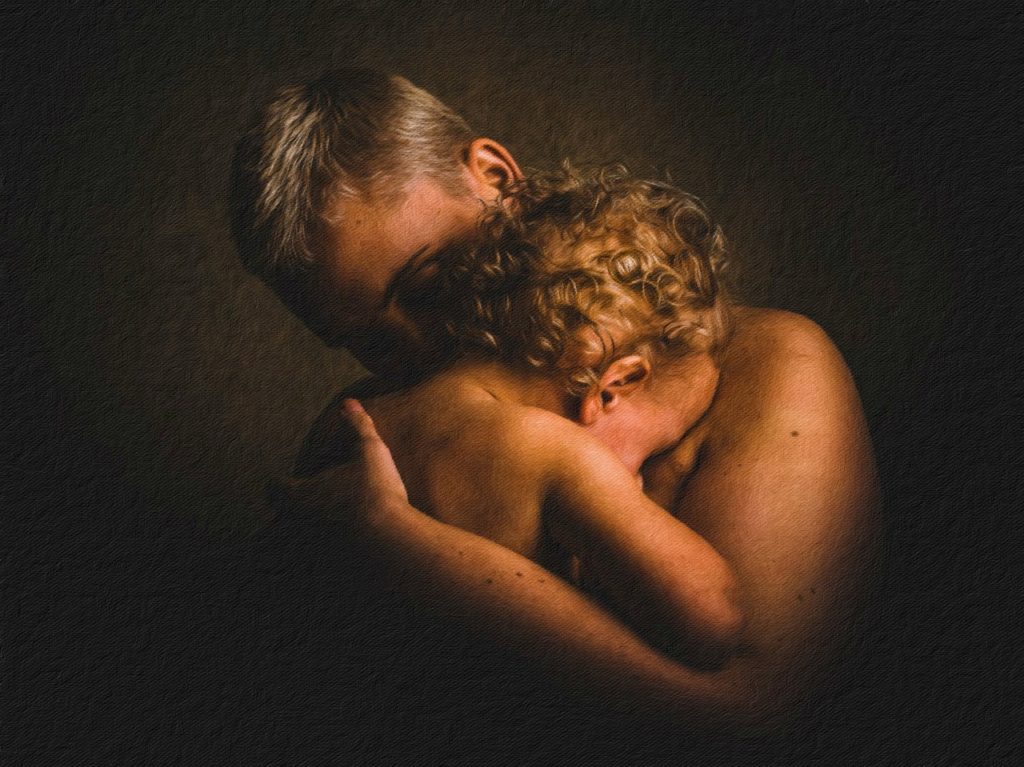 If you cannot walk, if you are in pain, if you do not understand what is happening in your life right now, I want you to know that there is One who is with you…
"The eternal God is your refuge, and underneath are the everlasting arms." (Deuteronomy 33:27)
"Whose bed do you go in when you are scared Auntie Annie?" the small voice asked, cutting through my thoughts with such sincerity and tenderness that I stopped what I was doing and turned around.
"I climb into mum and dad's bed when I get scared!" she said proudly, "then I'm not frightened anymore!"
I smiled at the innocence of the question. Life when you are four years old is so simple and easy to fix. If you are frightened in the night, you climb into mum and dad's bed. If you are scared during the day, you climb into a lap for a cuddle, and all is well with the world. If only that was the case for us as adults too!
Shortly after I turned nine, I was hit by a car on a busy road one dark December evening after school. My parents were away in London, and while my siblings walked home to tell the babysitter, a passer by scooped me up and took me to the local doctor's surgery. The doctor, (my father's professional partner) drove me to the hospital where they confirmed that I had broken my arm, damaged my hip and acquired numerous other injuries in the impact. I would have to stay in the hospital overnight and needed a surgery to mend my broken bones. In pain, terrified and alone, I lay in Emergency for several hours until my father arrived late that night with my teddy bear and night things. He was unable to stay for long, and so I was moved to a ward.
Having never been in a hospital before, I lay there through the night, feeling desperately alone and afraid in the unfamiliar surroundings as nurses checked on me frequently. My stay lasted for four days in total, and although my parents visited as much as they could, they were busy with my three siblings, work commitments and Christmas preparations, which meant I was alone more than I would have liked, especially at night. The little girl in the neighbouring bed had a chair by her side where her mother sat or slept, day and night for the length of her stay. I longed for my own mother to be able to be there full time, to stay at my side, or even climb into the bed with me and hold me safe in her arms! I longed to feel safe, secure and sheltered from the fear and uncertainty that surrounded me. I was sick and in pain, I could not walk or do much but lie there, and I did not understand all that was happening to me.
As adults, we face many trials. I know many men and women for whom anxiety has become a constant companion, yet for whom it used to be a stranger. It is so heartbreaking watching loved ones deal with emotional and physical pain, losing their self confidence, being unable to cope well in a crowd, feeling unsure of themselves and their decisions, avoiding social situations, living in fear and feeling uncertain about their future. This is not what our heavenly Father intended for any of us, but it is a consequence of living in a broken world. How I long for them to feel secure. To feel safe. To be held close and to be free from their pain, like a child again, able to climb into a parental bed for safety, or into a lap for comfort.
Recently an image circulated on social media of the character Boo, in the movie, Monsters Inc (2001) being hugged by big soft Sulley, her monster friend. Boo is almost completely hidden in Sulley's embrace, her small frame enveloped by his strong oversized arms, safely concealed from danger, comforted, calmed and reassured. The image is such a perfect picture of us in God's care! It speaks of tenderness, safety, love, belonging, warmth, protection, and of being enveloped in the arms of love by One who is so much bigger than anything we fear!
Deuteronomy 33:27 says, "The eternal God is your refuge, and underneath are the everlasting arms. He will drive out your enemies before you, saying, 'Destroy them!'"
God is there. He is bigger than life and bigger than anything we are facing. We may not have a parent's bed to climb into, but we do have the everlasting arms of the Father to envelop us. The Bible describes God as "the Father of compassion and the God of all comfort, who comforts us in all our troubles.." 2 Corinthians 1:3-4. He is "a refuge for the oppressed, a stronghold in times of trouble." (Psalm 9:9) He is also a "hiding place" who protects us from trouble and surrounds us with "songs of deliverance." (Psalm 32:7-8), promising to rescue us from all our troubles (Psalm 34: 17).
If you cannot walk, if you are in pain, if you do not understand what is happening in your life right now, I want you to know that there is One who is with you, at your side, twenty-four hours a day, seven days a week. He is there in your loneliness. He is there when your friends or family have rejected you. He is there in the dead of night when you can't sleep. He is there with you in the small hours when your anxious thoughts torment you. He is there in the darkness. He is there in the hospital. He is there in the workplace. He is there in your home. He is there in your room. He is there by your bedside. He is even there in your future. The One who holds you in the dark, walks alongside you through the pain, and shares your journey, will carry you if necessary.
You may be familiar with the "Footprints" story of the man who had a dream one night that he was walking along the beach with the Lord. Across the sky flashed scenes from his life. For each scene, he noticed two sets of footprints in the sand; one belonging to him and the other belonging to the Lord.
When the last scene of his life flashed before him, he looked back at the footprints in the sand and noticed that at many times along the path of his life there was only one set of footprints. He noticed that it happened at the very lowest and saddest times in his life.
This troubled him and he asked the Lord about it. "Lord, you said that once I decided to follow you, you'd walk with me all the way. But I noticed that during the most troublesome times in my life, there is only one set of footprints. I don't understand why when I needed you most you would leave me."
The Lord replied, "My precious child, I love you and I would never leave you. During your times of trial and suffering, when you see only one set of footprints, it was then that I carried you."
There are times in life when we simply need to be carried. There are times when the terrain of life is overwhelming, and we stumble or fall. But Jesus, our Good Shepherd, has promised never to abandon us or leave us on life's hillside, alone and struggling. No, he promises instead to leave the rest of the flock to come and find us, gather us into his arms and carry us close to his heart.
"He tends his flock like a shepherd:
He gathers the lambs in his arms
and carries them close to his heart;
he gently leads those that have young.  (Isaiah 40: 11)
Just as the ancient middle eastern shepherds would set up camp with their sheep and sleep across the door of the camp or sheep fold so that no harm could enter and harm the flock, the Bible says that "the angel of the Lord encamps around those who fear him, and he delivers them.." Psalm 34:7.
The Bible contains many beautiful images of God which speak of his parental protection and provision. Here are some which have comforted me when needing to feel the everlasting embrace…
"He will cover you with his feathers,
and under his wings you will find refuge;
his faithfulness will be your shield and rampart.
You will not fear the terror of night,
nor the arrow that flies by day,
nor the pestilence that stalks in the darkness,
nor the plague that destroys at midday." (Psalm 91: 4-6)
What a lovely picture of God like a mother bird, hiding and protecting us under his feathers, warm and safe!
"Even to your old age I am he, and to grey hairs I will carry you. I have made, and I will bear; I will carry and will save." (Isaiah 46: 4) Even as adults, he knows that we need him and will carry us, just as a parent who has borne a child continues to bear their child's burdens and is available to the child even when they become adults themselves.
"And in the wilderness, where you have seen how the LORD your God carried you, as a man carries his son, all the way that you went until you came to this place." (Deuteronomy 1:31) No matter what desert experience or wilderness you find yourself in, he will carry you there also. Notice that the verse says that he carries you "all the way". No terrain is overwhelming for God. No situation defeats him. He will traverse the desert or walk across water to reach you, and will carry you across all of life's terrain.
"He watches over his nest like an eagle and hovers over his young; he spreads his wings, catches him, and carries him on his feathers." (Deuteronomy 32:11) The eternal arms cover you, catch you and will be the safety net beneath you. There is no escape from God's embrace!
"For he will command his angels concerning you to guard you in all your ways; they will lift you up in their hands, so that you will not strike your foot against a stone." (Psalm 91:11-12) Just as the angel of the Lord encamps around you, encircling you with a hedge of protection, so God also instructs his angels to assist you and minister to you when needed. They too will lift you up and protect you!
Struggling is not a sign of weakness of failure. Sometimes it can be hard to admit that we need some help, need to be held or need carried for a while. The Shepherd of your soul, your heavenly Father knows your needs and is there with his arms outstretched for you. His followers are there for you too and I want to encourage you today to reach out to friends or loved ones if you need support or need to be held or carried in prayer. I am always available to pray for any needs you may have, and you are welcome to contact me through the "Contact" page if you need prayer.
Prayer: Lord, you are our faithful Father and our great Shepherd. Thank you that you are our refuge and that your everlasting arms are always beneath us, ready to catch, hold and protect us when we need. Thank you that we are secure in your embrace and that you will not allow anything to separate us from your love or cause us to fall. Hold us tight dear Lord and carry us close to your heart. In Jesus Name, Amen.
You may also wish to read The Shepherd's Benediction here.