The following is one of a series of short devotionals based on my book, "God's Love for You."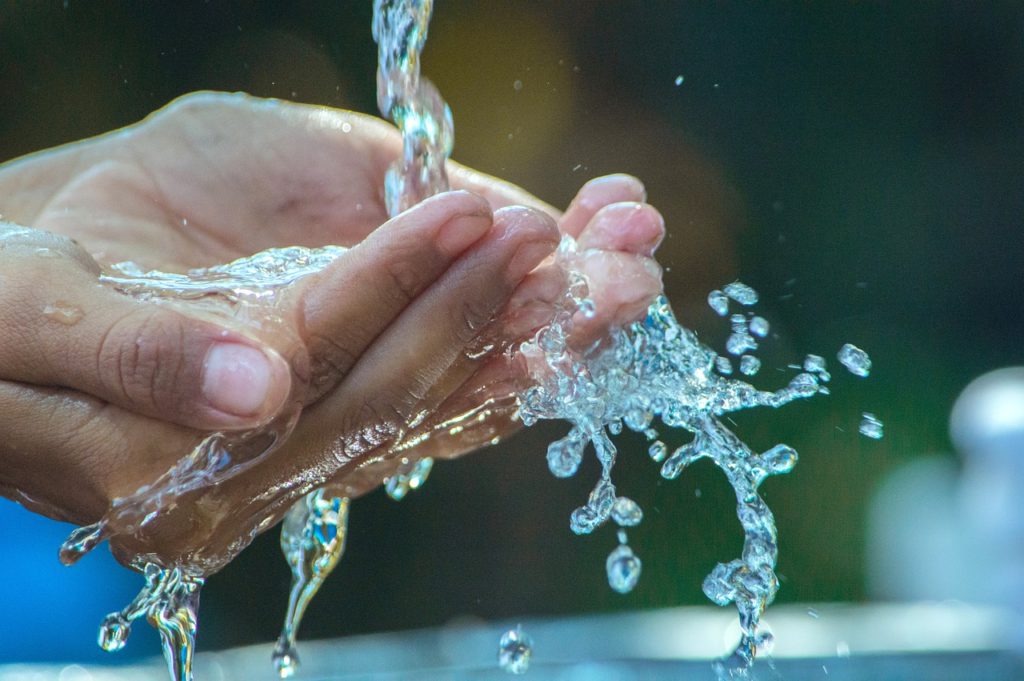 Sometimes it feels as if our mistakes are plastered all over us or displayed for the whole world to see.
"I will sprinkle clean water on you, and you will be clean; I will cleanse you from all your impurities and from all your idols." (Ezekiel 36:25)
We saw last time that sin has affected all of mankind, but by God's grace, our sins are fully covered and forgiven because of Jesus' sacrifice. Today, I want to remind you that although you may continue to struggle with sinful thoughts, words or actions, God's heart is always pure and loving towards you. You may feel tainted and stained by your mistakes, but God's love is able to wash you clean, and that is how he sees you.
The Bible says that God has blotted out our sins like a thick cloud (Isaiah 44:22) Low, thick cloud is able to completely cover landmarks at times. Another thing that often covers landmarks is graffiti. We have all seen it – larger than life – covering walls in public places on buses, signposts, transit stations, subways and shelters. There is a product that city authorities can apply to frequently targeted areas which prevents paint from staining surfaces, which means that graffiti can simply be cleaned away leaving no traces if the area has been pre-treated.
Do the stains of your sin feel larger than life sometimes? Especially those that may have hurt others? Sometimes it feels as if our mistakes are plastered all over us or displayed for the whole world to see. Though we know we are forgiven and may have forgiven ourselves, we may still feel the shame and pain associated with our actions. Our loving God may not have pre-treated us, but he predestined us! Consider the following passage from Romans 8, which speaks of God's followers being predestined to become conformed to Christ's image (and therefore justified by him), so that nobody can bring any charges against them.
"For those whom He foreknew, He also predestined to become conformed to the image of His Son, so that He would be the firstborn among many brethren; and these whom He predestined, He also called; and these whom He called, He also justified; and these whom He justified, He also glorified.
What then shall we say to these things? If God is for us, who is against us? He who did not spare His own Son, but delivered Him over for us all, how will He not also with Him freely give us all things? Who will bring a charge against God's elect? God is the one who justifies; who is the one who condemns? Christ Jesus is He who died, yes, rather who was raised, who is at the right hand of God, who also intercedes for us." (Romans 8:29-34)
Being justified means that in Christ we are forgiven and made righteous. So, just as if we had never sinned, we are seen as righteous! We are not under any condemnation (Romans 8 :1) If you have time, I highly recommend reading the whole of Romans chapter 8. It is a wonderful chapter which starts by reassuring us that there is no condemnation for those who belong to Christ, and ends by assuring us that there is no separation from his love! In between you will find out how you are both an heir and a conqueror in Christ!
Do not allow your past sins to stain the present. God predestined you and has washed you clean from all impurity! He now sees you as pure, holy and righteous! I will let Titus have the last word:
"He saved us, not by the righteous deeds we had done, but according to His mercy, through the washing of new birth and renewal by the Holy Spirit." (Titus 3:5)
Prayer: Father, thank you so much that I am clean and righteous in your sight. When I am tempted to think otherwise, may the truth of your Word remind me that I am justified and that there is no condemnation for those who love you. Help me to embrace the pure, holy, righteous life that you have created for me. In Jesus Name, Amen.

www.anneherridge.ca